Steps we take to make Mine mula achar | Coleus root pickle
Raw and tender mine mula are uprooted from the fields near Pune
They are washed, peeled and cut into julienne pieces.
Then sauted with aromatic indian spices according to didis traditional recipe.
It is stored in barnis, kept in sun for fermentation and the pickle is then packed under hygienic conditions and made ready for delivery.
It has large sliced pieces of mine mula (wild radish) marinated in oil, mustard seeds and spices
Spicy
High
Sweet
Low
Sour
Low
Spicy & mildly savoury, with an after-taste of hing
Premium & Chemical-free Ingredients
Crafted in Small Batches to Ensure Quality
Sun-dried to Retain Flavours
Preserving Age Old India's Tradition
Empowering & Supporting Rural Women
Recipe of Mine Mula Pickle
The Best Homemade Wild Radish Pickle
Our unique Mine Mula Pickle (Mainmula Pickle), is a culinary masterpiece that celebrates the unique flavors of Coleus root. Known for its distinct taste and medicinal benefits, Mine Mula Pickle is a true delight for pickle enthusiasts and food connoisseurs alike.
This pickle is a specialty of Kolhapur, Maharashtra. It is made using mine root and it looks like reddish-gray ginger. Mine roots are very medicinal and are one of the healthiest Maharashtrian pickles. Made from carefully selected and freshly sourced Coleus roots, every jar is filled with the goodness and essence of this traditional ingredient. Our Didis follow time-honored recipes to create a pickle that truly captures the essence of the region's culinary heritage.
Authentic Mango Pickle Recipe And Flavour
Our raw wild root Pickle is made with Authentic Grandma's Recipe and Farm Fresh wild radish and Spices from Kolhapur and Pune region.
According to our Farmer Didis, this pickle gives you the optimal level of nutrients and health benefits. It is also called main mula or mine mula in Maharashtra.
Preserved To Perfection
This is made by Santkrupa SHG, Pune which makes these unique & tasty pickles for us. They ensure that the pickles are made and packed under hygienic and ideal conditions to meet quality requirements.
The Perfect Accompaniment
Add a burst of flavor to your meals with Mine Mula Pickle. Its versatile nature makes it an excellent accompaniment to various dishes. Whether you pair it with rice, rotis, or parathas, this pickle is sure to elevate everyday meals to new heights.
We have both 1 KG Mine mula Pickle Jar and 350 Gm Maine moola Jar
If you are looking for main moola pickle online, check out our Mine mula Pickle price and discover the authentic taste of this condiment. So why wait? Get the Best Mine mula Pickle Online Delivered from Farmdidi
FarmDidi offers a delectable selection of pickles online, blending taste and tradition while promoting women empowerment. It is India's Top Homemade pickles brand in terms of quality of taste and social impact it is creating. One pickle jar at a time
Frequently asked questions
It is best consumed within 6 months from the date of packaging.
It has small julienne cut pieces of mine mula or the coleus root and is sauteed with Indian spices making it hot & spicy to spice up your regular rice and rotis.
Store the Pickle in a cool and dry place. Keep it refrigerated after opening.
You can eat Mine mula Pickle with Bhakri, chapati and dal chawal.
Know Your Didi:
Santkrupa Manhila Sahayata Samuh, from Ambegoan, Maharashtra.
Wild coleus roots are hand picked and mixed with other ingredients to make chutney which is then stored in Bharnis.
The pickle is made and packed under hygienic and ideal conditions to maintain quality requirements and are free from any artificial preservatives.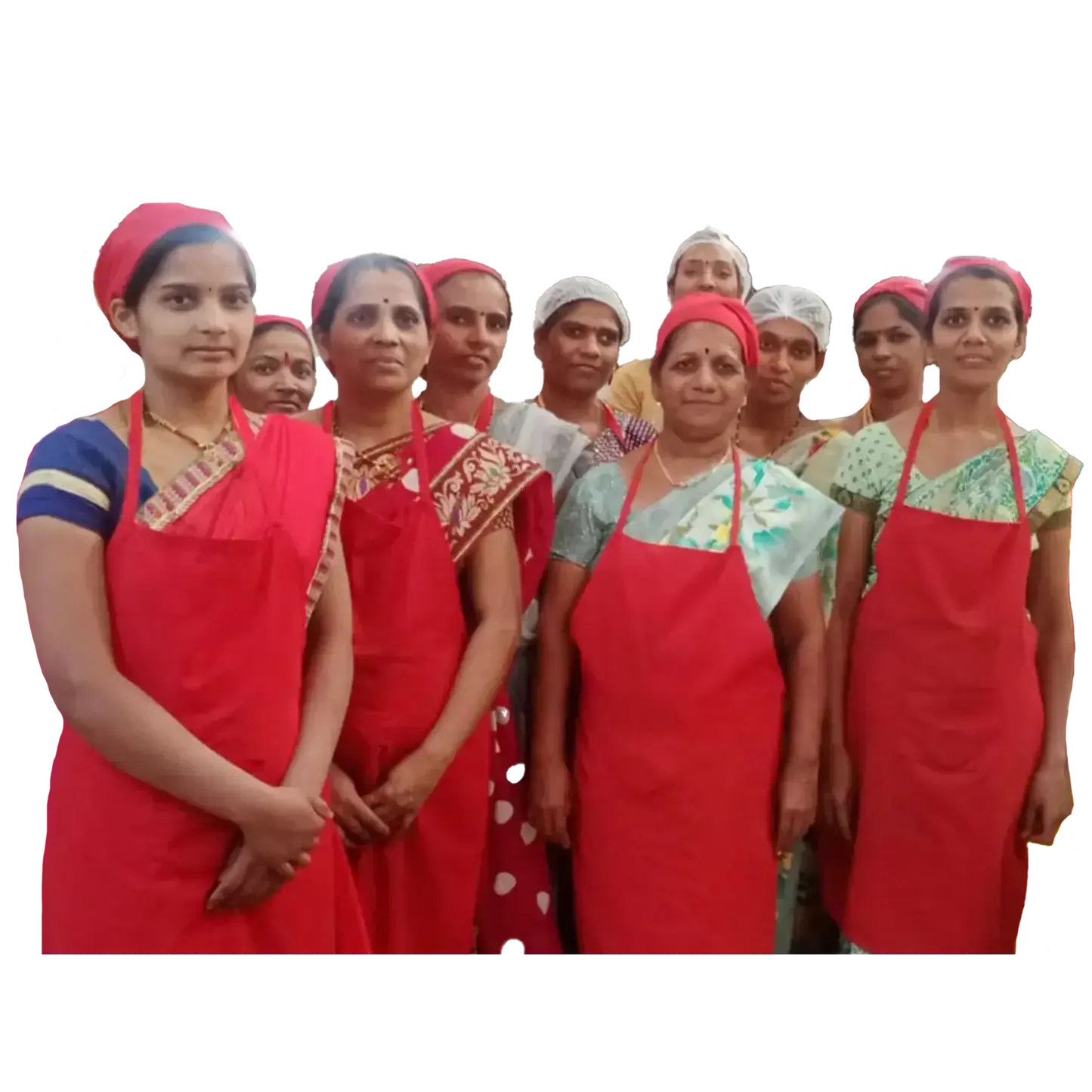 Traditional Marathi pickle
Mine Mula Achar is with traditional taste. This pickle is favourite in our home and we are buying this healthy pickle repetitively. Thanks Farmdidi.
Thank You so much for your kind words and for choosing our pickles. Your trust in our products not only brings joy to our didis but also enables them to lead more fulfilling lives, gain financial independence, and contribute to their communities. Your purchase is not just a transaction; it's a powerful gesture of support that propels us toward our vision.
Please don't hesitate to reach out if you have any questions or if there's anything else we can do for you.
Regards
Farmdidi
Thank you so much for your feedback. Your kind words inspire us to keep serving you better. We are glad you liked the product.
We would like to recommend you try some of our other products as well and let us know your feedback on them.
Looking forward to serving you again.
Warm regards
Team FarmDidi
Thank you so much for your feedback. Your kind words inspire us to keep serving you better. We are glad you liked the product.
We would like to recommend you try some of our other products as well and let us know your feedback on them.
Looking forward to serving you again.
Warm regards
Team FarmDidi
Must try
Utterly delicious. Nvr regretted experimenting this
Thank you so much for your feedback. Your kind words inspire us to keep serving you better. We are glad you liked the product.
We would like to recommend you try some of our other products as well and let us know your feedback on them.
Looking forward to serving you again.
Warm regards
Team FarmDidi