Steps we take to make Green Chilli Sauce | Hari Mirch ki Chutney
Fresh green chillies are picked up from farms near the outskirts of Pune.
They are washed, uniformly split and blended along with aromatic indian spices according to didis traditional recipe
It is pan-fried, tempered with tadka and stored in barnis.
The Thecha or chutney is then packed under hygienic conditions and made ready for delivery.
Stone crushed chillies and garlic soaked in bit of oil and cumin. It is also called mirchi thecha.
Spicy
High
Sweet
Low
Sour
Medium
Extremely spicy Not for the faint hearted! Hints of garlic & cumin
Premium & Chemical-free Ingredients
Crafted in Small Batches to Ensure Quality
Sun-dried to Retain Flavours
Preserving Age Old India's Tradition
Empowering & Supporting Rural Women
Recipe of Green Chilli Chutney
The Best Homemade chilli chutney (hari mirch ki chutney)
If you are a fan of spicy chutneys or thecha recipes, we've got a great green chilli chutney online. Our green Chilli chutney with garlic is made using traditional recipes that have been passed down for generations.
If you are looking for homemade chutney, this hari mirchi ki chutney is the way to go
Authentic mirchi thecha Recipe And Flavour
We use farm fresh chillies and spices to give our hari Mirchi pickle its unique flavor and aroma.Our Farmer Didis agree that this mirchi thecha is a wholesome way to add some spice to your meals while also reminding you of home.
Preserved To Perfection
This is made by Santkrupa SHG, Pune which makes these unique & tasty chilli chutney for us. They ensure that the pickles are made and packed under hygienic and ideal conditions to meet quality requirements.
To ensure mirchi thecha stays fresh for as long as possible, store it in a cool and dry place and do not forget to refrigerate it after opening. Always use a dry spoon while serving, so that there's no moisture contact.
The Perfect Accompaniment
ICheckout our reasonable green chilli chutney price in the homemade, preservative free and low oil range and book your barni now for a quick and easy delivery!
There are a number of ways to enjoy the thecha chutney ! Whether you're having it with rice, roti, dal, or paratha it's the perfect addition to any meal. For the best taste experience, we recommend serving this mirchi thecha chutney with hot dishes.
We have both 1 KG Chili Chutney Jar and 350 Gm Chilly Chutney Jar. This hari mirch ki chutney is also loved by fans of milagai chutney, Andhra style pandu mirapakaya pachadi . Some will say that mirchi chatni is made maharashtrain thecha style but it's loved by hari mirch ki chutney fan lovers too.
What makes our mirchi thecha fresh is the usage of farm fresh chillies, fresh garlic and spices of indigenous varietyl. So why wait? Get the Best mirchi thecha Online Delivered from FarmDidi
FarmDidi offers a delectable selection of chutneys online, blending taste and tradition while promoting women empowerment. It is India's Top Homemade chutneys brand in terms of quality of taste and social impact it is creating. One chutney jar at a time
Frequently asked questions
It is best consumed within 6 months from the date of packaging.
It is an authentic Maharashtrian Hirvi Mirchi thecha. Its a wet chutney that is hot & spicy, perfect for spice lovers to spice up your daily meals.
Store the chilli chutney in a cool and dry place. Keep it refrigerated after opening.
You can eat the thecha or chilli chutney with Bhakri, roti,
Know Your Didi:
Santkrupa Manhila Sahayata Samuh, from Ambegoan, Maharashtra.
Farm grown green chillies are freshly hand picked and mixed with other ingredients to make chutney which is then stored in Bharnis.
The thecha is made and packed under hygienic and ideal conditions to maintain quality requirements and are free from any artificial preservatives.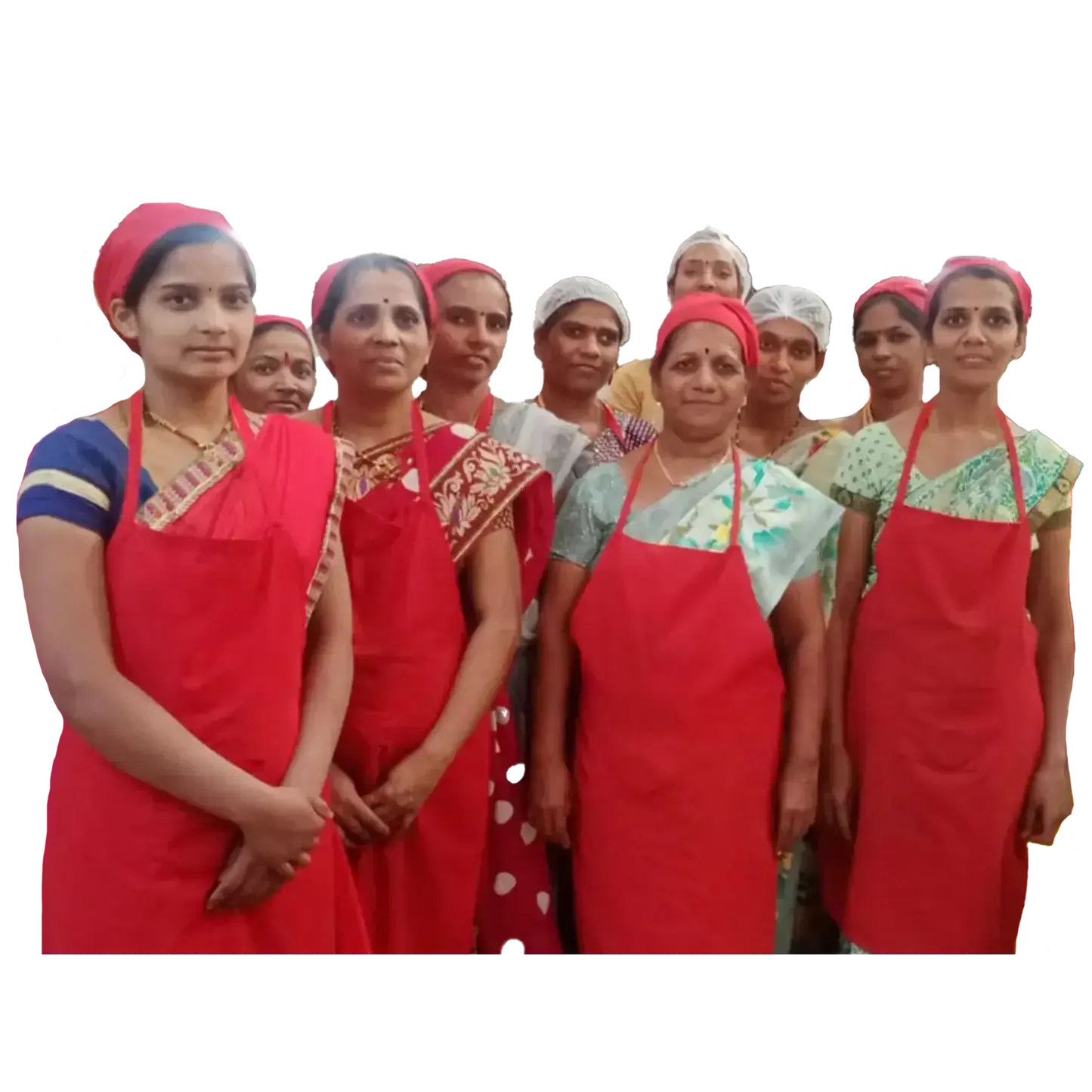 Hot & Happening!
This is too good to be true. It tastes exactly like the one we used to take in our tiffin boxes. Made me Nostalgic.
I have discovered my new Home away from Home!
Thank you so much for your feedback. Your kind words inspire us to keep serving you better. We are glad you liked the product.
We would like to recommend you try some of our other products as well and let us know your feedback on them.
Looking forward to serving you again.
Warm regards
Team FarmDidi
Thank you so much for your feedback. Your kind words inspire us to keep serving you better. We are glad you liked the product.
We would like to recommend you try some of our other products as well and let us know your feedback on them.
Looking forward to serving you again.
Warm regards
Team FarmDidi
Great
Spicy taste just the way i like
Thank you so much for your feedback. Your kind words inspire us to keep serving you better. We are glad you liked the product.
We would like to recommend you try some of our other products as well and let us know your feedback on them.
Looking forward to serving you again.
Warm regards
Team FarmDidi
Amazing taste ! Just like how my mom make Thecha
Taste is really good, spicy and tangy