The Journey: Farmdidi Imli Chutney
Steps we take to make Tamarind Sauce | Imli ki Chutney
Farm fresh tamarind is freshly picked and cleaned.
It is sautéed with caramelized jaggery and spices made by didis.
After it is cooled down, it is hygienically packed and made ready for delivery.
It is a thick Paste of Imli and Jaggery without any oil or sugar added. You can add water for chutney purpose or add directly to curries.
Spicy
Low
Sweet
High
Sour
High
Sweet & tangy, brings back childhood memories
Premium & Chemical-free Ingredients
Crafted in Small Batches to Ensure Quality
Sun-dried to Retain Flavours
Preserving Age Old India's Tradition
Empowering & Supporting Rural Women
-->
The Best Homemade Tamarind Chutney (Imli Chatni)
Our Imli Chutney is THE ORIGNAL Imli Ki Chutney that used to be made by Grandmas. Grandmas would handpick fresh imli from trees, and add some jaggery along with some hand-pounded spices. Grandmas would keep this mixture in a jar and would call it Imli Chutney. Typically, it was made for enhancing curry flavors but mostly used for pampering her grandkids. Sometimes, you would find that grandma herself would relish its taste for snacking and would claim that she was eating it for improving her digestion. For some, Imli Chutney Jar was the nostalgia; that jar used to be a candy for kids. Grandmas would keep it out of reach for kids as everyone loved and relished its tangy and sweet flavor.And for some, the Imli Chutney packet used to be sold outside the schools and was one favorite toffee. We have learnt that some of our parents mentioned that the imli chutney packet price used to be 10 paisa in their childhood days.
Authentic Imli Chutney Recipe And Flavour
We take pride in bringing it back, using the finest tamarind (imli), freshly sourced from farms. To ensure the highest quality and the most authentic flavor in every bite. We use black-colored natural Jaggery for making it. And now your grandmas might not be living near tamarind farms, but you can get this tamarind chutney online through Farmdidi.
The recipe for imli jaggery chutney is very simple, it contains only imli, jaggery, and chili powder. This one is one of the favorite chatni of our didis too. So what are you waiting for? Buy imli chutney online from our FarmerDidis and even share it with your grandmas to surprise them. If you are looking for homemade imli picklestrong>, this imli chutney is the way to go. So why wait? Get the Best Tamarind chutney Online Delivered from FarmDidi
Preserved To Perfection
Please note that the chutney would be a bit drier as compared to how you would find other chutneys in the market. It is also called Chinchechi Chutney in Maharashtra, and it is loved by fans of Chintapandu Pachadi / Andhra style tamarind chutney and imli ki meethi chutney of Gujarat
What makes our imli ka achar fresh is the usage of farm fresh tamarind and organic jaggery. This is made by Shubani SHG, Raigad which makes these unique & tasty chutneys and pickles for us. They ensure that the pickles are made and packed under hygienic and ideal conditions to meet quality requirements.
The Perfect Accompaniment
It is natural and doesn't contain any external liquids/chemicals. Like our grandmas, you can use this imli chutney packet for enhancing the flavors of curries. You can add a bit of water before serving it with your favorite samosas
This is indeed faviourite chutney of our Farmer Didis as well. Besides its oil free imli chutney (or imli pickle). So, don't wait any longer and order tamarind sauce online or imli ka achar online from us today. You won't regret it!
So, checkout our reasonable chatpati imli price in the homemade, preservative free and oil free range and book your barni of Chintakaya Pachadi now for a quick and easy delivery. We have both 1 KG Imli Chutney Jar and 350 Gm Imli Chutni Jar
FarmDidi offers a delectable selection of pickles online, blending taste and tradition while promoting women empowerment. It is India's Top Homemade pickles brand in terms of quality of taste and social impact it is creating. One pickle jar at a time
Frequently asked questions
It is best consumed within 6 months from the date of packaging.
Do you remember eating freshly picked imli from the trees. Our imli chutney brings back those memory with the extended flavours of mild sweet and spices.
Store the Imli chutney in a cool and dry place, preferably in the fridge.
You can eat it with daal rice, parathas, pani puri, bhel puri, vada pav, samosa and other chat items. You can also add it to your curries like sambhar, to enhance its taste.
Know Your Didi:
Meet Nagma Didi who leads Subhani Swayam Sahayata Samuh, from Raigad, Maharashtra.
Farm grown Tamarind Pods (Imli) are freshly hand picked and mixed with other ingredients to make chutney which is then stored in Bharnis.
The pickles are made and packed under hygienic and ideal conditions to maintain quality requirements and are free from any artificial preservatives.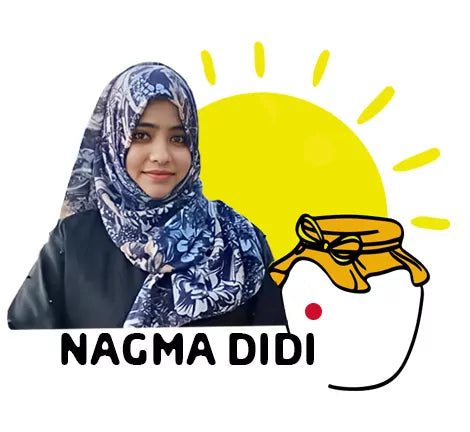 Regarding pickles
Awesome both pickles love the taste please add low salt
Thank You so much for your kind words and for choosing our pickles. Your trust in our products not only brings joy to our didis but also enables them to lead more fulfilling lives, gain financial independence, and contribute to their communities. Your purchase is not just a transaction; it's a powerful gesture of support that propels us toward our vision.
Please don't hesitate to reach out if you have any questions or if there's anything else we can do for you.
Regards
Farmdidi
Tamarind Sauce | Imli ki Chutney
Thank You so much for choosing our pickles. Your trust in our products brings joy to our didi's and motivates them and us to do more better for our customers.
Please don't hesitate to reach out if you have any questions or if there's anything else we can do for you.
Regards,
Marketing Didi
Test is very bad and burnt smell
Dear customer,
We are very sorry to here this feedback. We will reach out to you to understand more about your experience with us and will provide you with the best solution.
Regards,
Farmdidi