Add a Spicy and Tangy Twist to pep-up Daily meals!
Spice up your meals with this savoury pickle.
This pickle goes with Parathas, munchies and Daily meals. Our Garlic Pickle is made with Traditional Recipes and Farm Fresh Garlic, Chillies and Spices.
Chillies and mustard contains essential nutrients and can Boost Immunity as well.
According to our Farmer Didis, this pickle gives you the optimal level of spice required to make a wholesome meal.
This is Sakshi Didi who leads Mahalaxmi SHG, Raigarh, Maharashtra which makes tasty garlic pickles for us. She ensures that the pickles are made and packed under hygienic and ideal conditions to meet quality requirements.
Garlic, green chillies, ginger, cumin, fennel, ajwain, mustard seeds, black pepper cloves, coriandar seeds, fenugreek seeds, mustard oil, asafoetida, turmertic, dry mango powder, vinegar, salt.
Know Your Products
Fresh garlic are picked up from farms in Raigad.
They are peeled and rinsed with water and dried before use.
Then sautéed with aromatic Indian spices according to didis traditional recipe.
Prepared pickle is stored in Bharni and kept in sun for fermentation. The pickle is then packed under hygienic conditions and made ready for delivery.
Health Benefits
Prevents respiratory illnesses
Garlic has antibacterial and antioxidant properties, so including a small amount of garlic pickle in your food can protect you from respiratory issues.
Helps treat arthritis
Garlic has anti-arthritic properties, so the spread of arthritis can be prevented by consuming garlic, either raw or pickled.
Keeps your heart
Garlic protects the heart by preventing blood clots and blocks, which may lead to heart attack.It also promotes heart health by reducing cholesterol level and triglycerides
Prevents diseases
Antioxidants help prevent damage to your cells caused by oxidation process and thereby prevent diseases.
Fraudulent
We ordered 10 bottles of pickles and we received the product so badly packed and the pickles caps were opened also we had no stickers of your company Farm didi but it was known as xpressbees
I guess they had opened our products and used and taken some of our bottles and packed into other boxes and delivered us so grossly….!
I request you to note this and sort out issue
Very oily
Not that much good product
Hello Sir,
We are sorry that the product did not meet your expectations. Our garlic pickle has less calories and fats as compared to other pickles. We recommend you to try our oil free pickle, and hope to hearing from you soon.
Warm regards
Team FarmDidi
A must order product if you are from Uttar Pradesh
Hello Sir,
Thank you so much for your kind words. We're glad you loved our product.
Your feedback motivates us to continue to provide the best quality pickles to our customers. Do try out our other pickles and let us know your feedback.
We look forward to serving you again!
Regards
Team FarmDidi
It tastes as it's handmade and its been handmade. Loved it.
Frequently asked questions
What is its shelf life?

When stored in a refrigerator, it lasts for 9 months from the date of packaging.
How does it taste?

It is a thick paste that has some whole pieces of garlic cloves and has a mild spicy and salty taste.
Where should I store the pickle?

As this is an oil and preservative free pickle, it is best to keep refrigerated after opening.
What do I eat it with?

You can eat it with daal rice, parathas, roti sabji, and non veg curries. You can also add it to your curries to enhance the taste.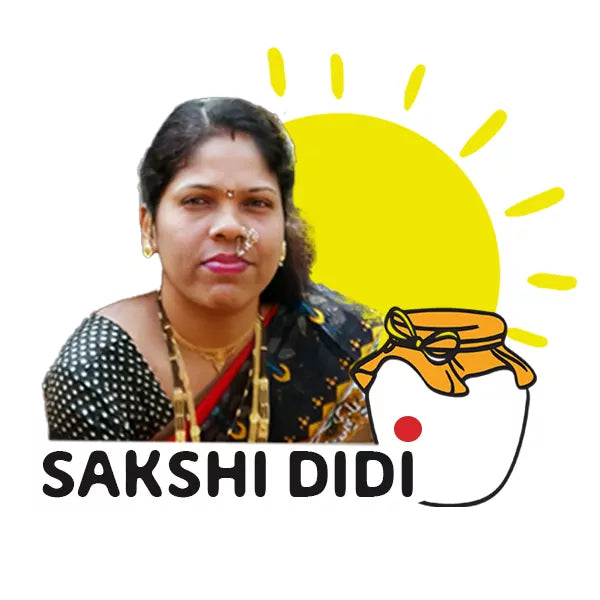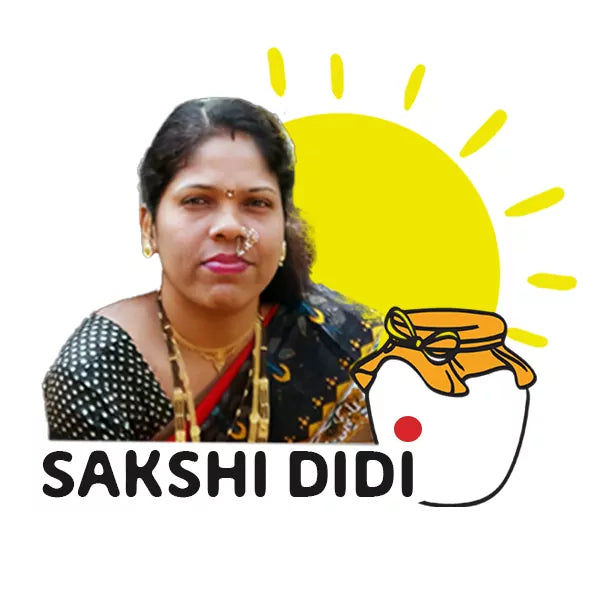 Know your didi:
Meet Sakshi Didi who leads Mahalaxmi Swayamsahayata Samuh, Raigarh, Maharashtra.

Farm grown garlic bulbs are freshly hand picked and mixed with other ingredients to make chutney which is then stored in Bharnis.

The pickles are made and packed under hygienic and ideal conditions to maintain quality requirements and avoid contamination and are free from artificial preservatives.