The Journey: Farmdidi Garlic pickle
Steps we take to make Garlic pickle | Lehsun ka achar
Fresh garlic are picked up from farms in Raigad.
They are peeled and rinsed with water and dried before use.
Then sauted with aromatic indian spices according to didis traditional recipe
Prepared pickle is stored in Bharni and kept in sun for fermentation. The pickle is then packed under hygienic conditions and made ready for delivery.
It has crunchy pieces of garlic soaked in thick gravy of mustard oil and spices.
Spicy
Medium
Sweet
Low
Sour
Low
Slightly spicy & salty, with hint of ginger
Premium & Chemical-free Ingredients
Crafted in Small Batches to Ensure Quality
Sun-dried to Retain Flavours
Preserving Age Old India's Tradition
Empowering & Supporting Rural Women
The Best Homemade Garlic Pickle (Lehsun Ka Achar)
If you are looking for homemade lehsun pickle, this garlic pickle is the way to go
Authentic Garlic Pickle Recipe And Flavour
Our lehsun ka achar is made with Authentic Grandma's Recipe and Farm Fresh garlic and Spices from Pune, sautéed in mustard oil
According to our Farmer Didis, this lahsun achar gives you the optimal level of nutrients and spices required to complete your wholesome meal. It is also called lahsun ka achar in Himachal, and it is loved by fans of Vellulli Pachadi of Andhra and lahsun pickle of Himachali, Rajasthani, Punjabi lehsun ka achar too.
Preserved To Perfection
This is made by Mahalakshmi SHG, Raigad which makes these unique & tasty pickles for us. They ensure that the pickles are made and packed under hygienic and ideal conditions to meet quality requirements.
It is a lasoon pickle (lasoon achar), It is made by sun drying the garlics first before adding spices
The Perfect Accompaniment
The pickle is loved by both kids and adults in family. We bet you would like to compare this garlic pickel with other best garlic pickles in the market and even with your own mother's recipe. It's definitely best Indian garlic pickle that you wouldn't miss to try
We have both 1 KG garlic Pickle Jar and 350 Gm Garlic Pickle Jar
What makes this pickle fresh is the usage of farm fresh garlic and spices of indigenous variety. So why wait? Get the Best Garlic Pickle Online Delivered from FarmDidi
FarmDidi offers a delectable selection of pickles online, blending taste and tradition while promoting women empowerment. It is India's Top Homemade pickles brand in terms of quality of taste and social impact it is creating. One pickle jar at a time
Frequently asked questions
When stored in a refrigerator, it lasts for 9 months from the date of packaging.
It is a thick paste that has some whole pieces of garlic cloves and has a mild spicy and salty taste.
As this is an oil and preservative free pickle, it is best to keep refrigerated after opening.
You can eat it with daal rice, parathas, roti sabji, and non veg curries. You can also add it to your curries to enhance the taste.
Know Your Didi:
Meet Sakshi Didi who leads Mahalaxmi Swayamsahayata Samuh, Raigarh, Maharashtra.
Farm grown garlic bulbs are freshly hand picked and mixed with other ingredients to make chutney which is then stored in Bharnis.
The pickles are made and packed under hygienic and ideal conditions to maintain quality requirements and avoid contamination and are free from artificial preservatives.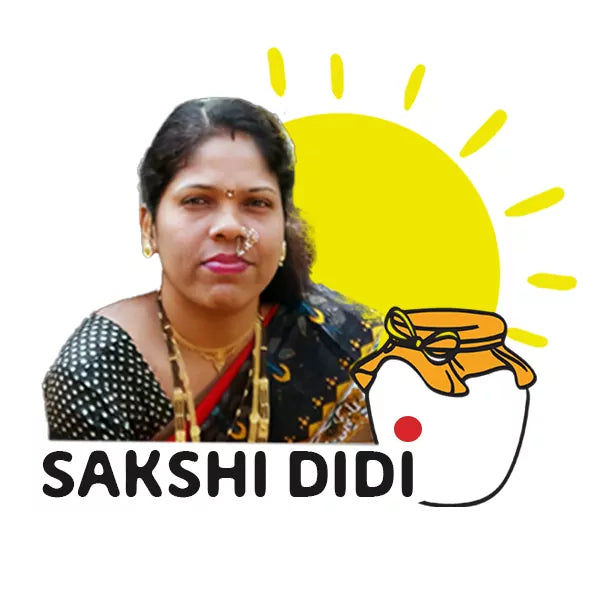 दीदी का स्वादिष्ट आचार
इतना स्वादिष्ट लस्सन का आचार कभी नही खाया 😊😊😊
आपके अद्भुत शब्दों और हमारे अचारों को चुनने के लिए बहुत-बहुत धन्यवाद। आपका समर्थन मेरे लिए बहुत मायने रखता है और हमारे छोटे व्यवसाय को बढ़ने में मदद करता है। मुझे यह सुनकर खुशी हुई कि आपने स्वाद का आनंद लिया! यदि आपके कोई प्रश्न हैं या हम आपके लिए कुछ और कर सकते हैं तो कृपया हमसे संपर्क करने में संकोच न करें। हमारे अचार-प्रेमी समुदाय का हिस्सा बनने के लिए एक बार फिर धन्यवाद!'
सम्मान,
फार्मदीदी
Pickles
Your pickles have a lot more salt than what I prefer. Otherwise, they are good.
Dear Customer, thank you for sharing your positive feedback.
As for the salt part, occasionally, due to the urgency of fulfilling orders, pickles may retain excess saltiness. However, rest assured, after settling for 9-10 days, they will reach their optimal flavor and are ready to be enjoyed. Thank you for your understanding and continued support. The feedback will be shared with the concern team.
Please don't hesitate to reach out, if you have any questions or if there's anything else we can do for you.
Regards,
Farmdidi
Sorry to hear this feedback, We are reaching you directly to suggest you other options or suggest you another products.
Tasty
Must try very delicious and less oil😋
Thank you so much for your feedback. Your kind words inspire us to keep serving you better. We are glad you liked the product.
We would like to recommend you try some of our other products as well and let us know your feedback on them.
Looking forward to serving you again.
Warm regards
Team FarmDidi
Very oily
Not that much good product
Hello Sir,
We are sorry that the product did not meet your expectations. Our garlic pickle has less calories and fats as compared to other pickles. We recommend you to try our oil free pickle, and hope to hearing from you soon.
Warm regards
Team FarmDidi