Steps we take to make Amla pickle | Amla ka achar | Tangy & spicy
Amlas are sourced by our didis from Satara. The freshest and juicest Indian gooseberries are procured in the winter season. These are washed, dried and steamed in preparation for the making of amla pickle.
Then the amlas are de-seeded and the pieces are dried again.
After the oil is heated and cooled down, the masalas are added along with sundried Amla
The homemade amla pickle is stored in air tight bharni to marinate.
The homemade amla pickle is stored in air tight bharni to marinate.
Spicy
Medium
Sweet
Low
Sour
High
Sour & slightly spicy, perfect for health conscious people
Premium & Chemical-free Ingredients
Crafted in Small Batches to Ensure Quality
Sun-dried to Retain Flavours
Preserving Age Old India's Tradition
Empowering & Supporting Rural Women
The Best Homemade Amla Pickle (Amla Ka Achar)
Looking for the best homemade amla pickle online that's both authentic and affordable? Look no further than our homemade amla pickle made with farm fresh ingredients!
Authentic Amla Pickle Recipe And Flavour
Our amla pickle is made with Authentic Grandma's Recipe and Farm Fresh amlas and Spices from Pune, sautéed in premium sunflower oil
There are a number of ways to enjoy the Indian gooseberry pickle . Our spicy and savory amla achar is the perfect accompaniment to parathas, rice, and all daily meals.
Using an age-old Grandma's recipe and fresh amlas and spices straight from the farm, making it the tastiest amla achar online.
It is also known as aanwale ka achar or amle ka achar or awla achar in North India or avla lonacha in Maharashtra or Usirikaya pachadi Andhra style Amla Pickle / nilava usirikaya pachadi or Nellikai Oorugai
Preserved To Perfection
For the best taste experience, we recommend serving this amle ka achar with hot dishes. And to ensure that it stays fresh for as long as possible, store it in a cool and dry place, or you can refrigerate it. Please use a dry spoon while serving, so that there's no moisture contact.
This is made by Pragati Mahila SHG, Pune which makes these unique & tasty pickles for us. They ensure that the pickles are made and packed under hygienic and ideal conditions to meet quality requirements. So, why wait? Buy our amla achar online today and enjoy the benefits of its tangy-spicy taste loved by so many.
The Perfect Accompaniment
This Indian gooseberry pickle is loved by both kids and adults in family. We bet you would like to compare this amla pickel with other avla pickles in the market and even with your own mother's recipe. It's definitely best Indian gooseberry pickle that you wouldn't miss to try
We have both 1 KG Amla Pickle Jar and 350 Gm Avla Pickle Jar. So why wait? Get the Best Amla Pickle Online Delivered from FarmDidi
FarmDidi offers a delectable selection of pickles online, blending taste and tradition while promoting women empowerment. It is India's Top Homemade pickles brand in terms of quality of taste and social impact it is creating. One pickle jar at a time
Frequently asked questions
It is best consumed within 9 months from the date of packaging.
It has a sweet, sour, spicy, and tangy taste.
Store the Amla Pickle in a cool and dry place. Keep it refrigerated after opening.
You can eat Amla Pickle with all your daily meals, especially dal chawal.
Know Your Didi:
This is Jyoti Didi who leads Pragati Mahila SHG, Walhe, which brings these amazing amla pickles for us.
She ensures that the pickles are made and packed under hygienic and ideal conditions to meet quality requirements.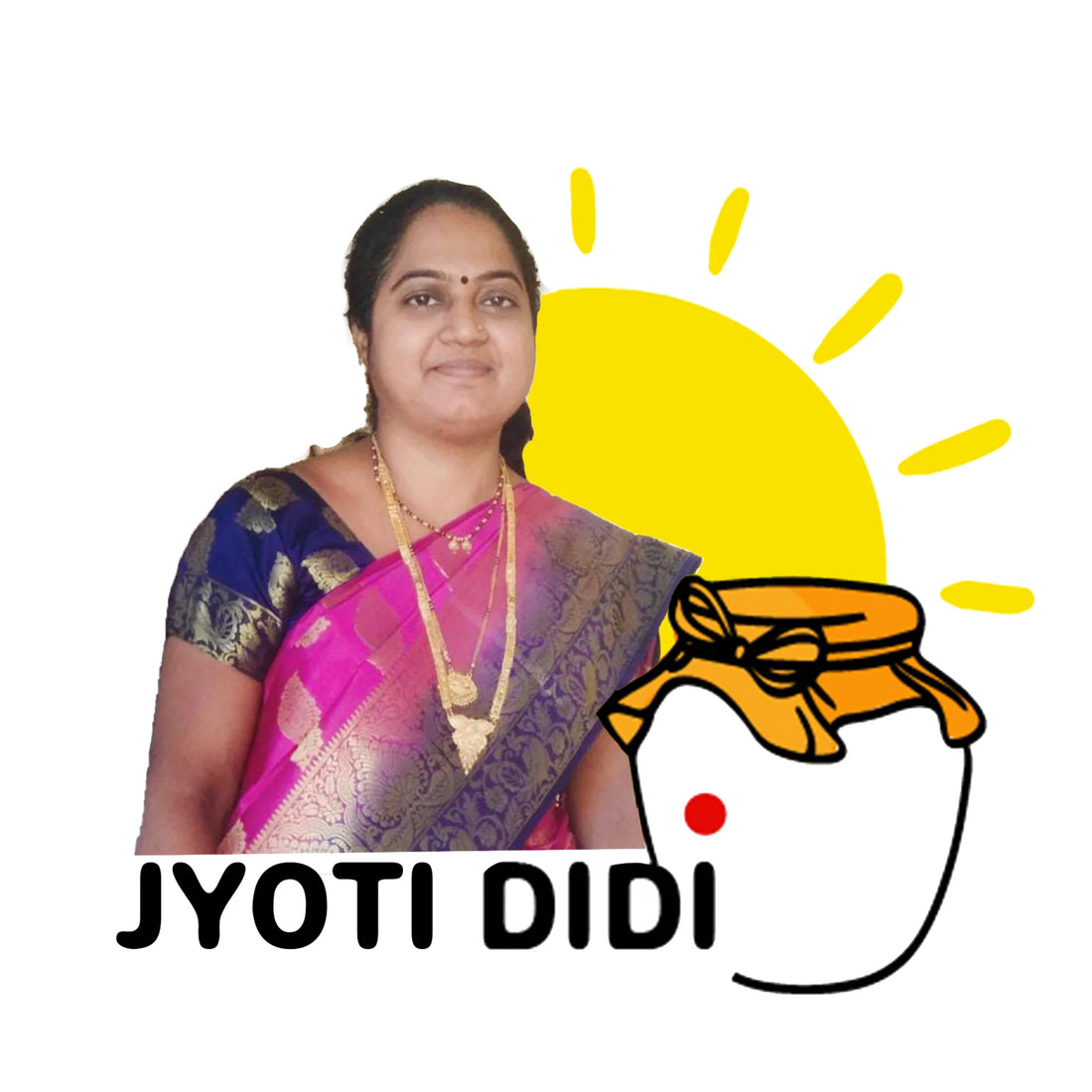 Poor packing and sweetness
Packing was very poor box was shapeless from bottom and was leaking . Had to shift all pickle to new glass container
And about taste there is some sweetness in pickle which is not good in taste
Amla pickle | Amla ka achar | Tangy & spicy
Thank You so much for choosing our pickles. Your trust in our products brings joy to our didi's and motivates them and us to do more better for our customers.
Please don't hesitate to reach out if you have any questions or if there's anything else we can do for you.
Regards,
Marketing Didi
We are sorry our product did not meet your expectations. But the pickle being freshly sent, is a little salty, once the pickle settles in 10-14 days it tastes the best.
Hope you will order again.
Regards
Farmdidi
Best product
I find these pickle excellent in taste, I am enjoying and will order in future once finish. Overall satisfied with product.
Thank you so much for your feedback. Your kind words inspire us to keep serving you better. We are glad you liked the product.
We would like to recommend you try some of our other products as well and let us know your feedback on them.
Looking forward to serving you again.
Warm regards
Team FarmDidi
So so
Pickles are not good in taste....
I don't like it ..
Dear Sangeeta Mam, Thanks for sharing the feedback. Our team will get back to you over call and understand the gaps, so we can further improve. Regards, FarmDidi Marketing Team