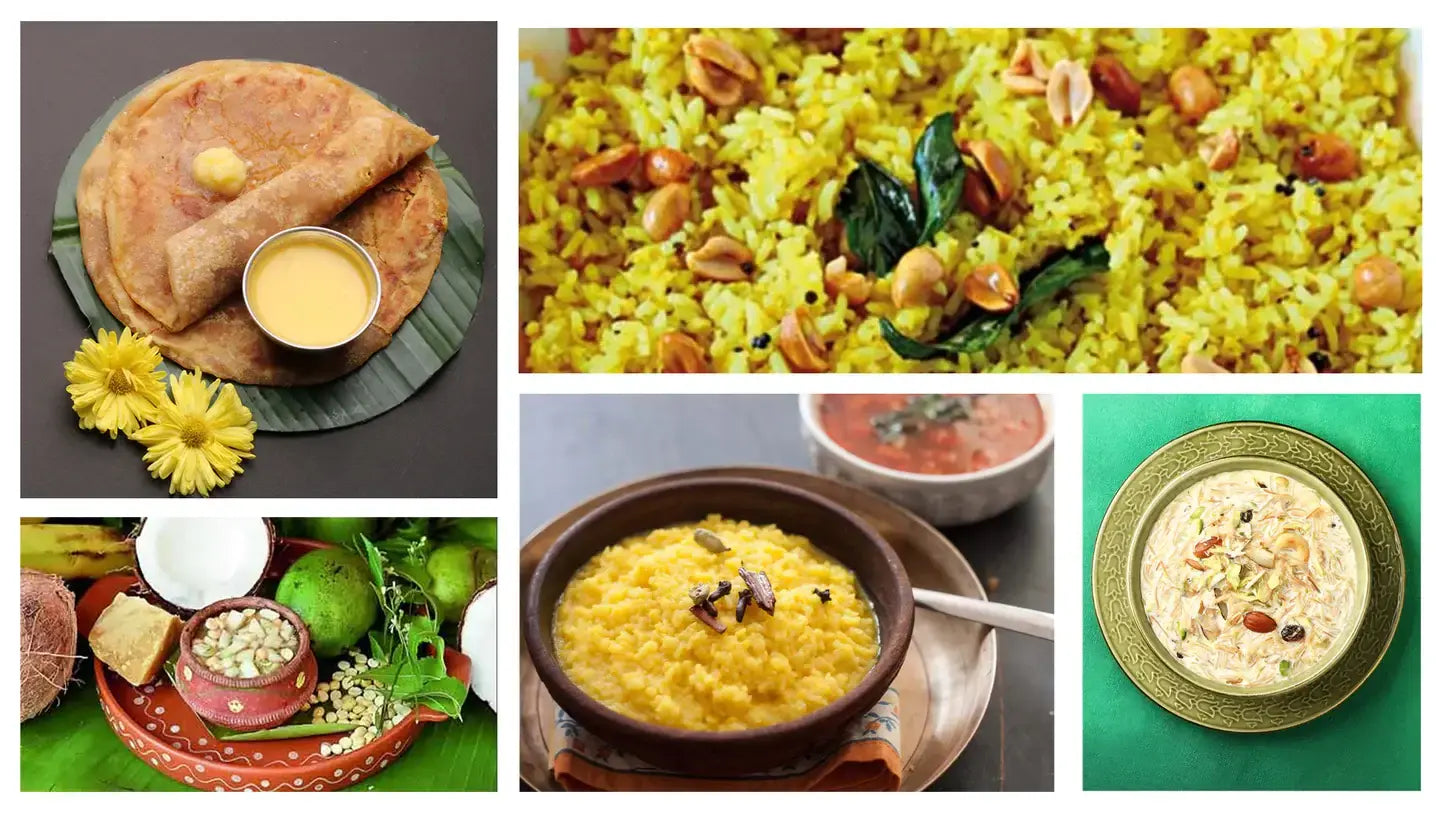 According to Hindu calendar, the first day of Chaitra month is marked with the festival Gudi Padwa in the Maharashtra and Konkan (Goa) regions of India. It is also known as Ugadi in Karnataka and Andhra Pradesh. In north India it is recognized as Chaitra Navratri.  It's basically the beginning of a new year for the hindu marathas. One might see outside the household of Marathas, a stick with a flag and copper tumbler on top decorated with mango leaves and garland. This is because the "Gudi '' means flag or emblem of lord Brahma and "Padwa" means the first day of the phases of the moon. Bringing the Gudi home to ward off evil spirits and bring prosperity. Whereas, Ugadi means the beginning of a new age. It is believed that on the day of Ugadi Lord Brahma started the creation of the Universe.  
A festival always guarantees a feast and this festival is no different. The menu for this festival is extravagant in each state. While the state of Maharashtra and southern India have sugar laden dishes, in the northern states this festival is celebrated as Navratri so fasting foods are prepared which help prepare the body for the upcoming summer season. So let's talk in detail about the most popular dishes that are synonymous with this festival in those states and how they bring benefits to our health. 
Maharashtra
Puran Poli- Gudi Padwa is incomplete to Maharastrian without the delicious Puran Poli/ Obbattu. This is a sweet dish made of jaggery sweetened stuffing of chana or tur dal, in wheat and refined flour casing, is a great source of proteins, fibre, folate and helps reduce cholesterol.
Shrikhand- Shrikhand is a kind of Indian version of ice cream and quite popular in the hot summer. The technique uses primary hung curd which is prepared by straining the curd in muslin cloth overnight to get rid of water, leaving behind smooth and rich curd, this curd is sweetened and flavoured with cardamom or with fruits and dry nuts.  Shrikand acts as a probiotic which enhances the gut bacteria and overall health. 
Karnataka
Bevu Bella- Bevu means Neem, Bella means jaggery. Eating neem and jaggery signifies balanced happiness and sadness for the rest of the new year. It is also known as Ugadi Pachadi in other southern parts of India, which is a cool refreshing drink made of tamarind pulp, jaggery and neem flowers. Although there are variations including mango pieces, dry fruits and coconut pieces. Neem is a rich source of antioxidants which helps in anti-aging, preventing cardiovascular disease and cancer. 
Huggi- One of the traditional sweet dishes from the state of Karnataka which is also very humble and easy to make. Whole wheat grain is soaked overnight and pressure cooked,   jaggery, cardamom and dry fruits are added to it and served. It is enjoyed with ghee and milk. Whole wheat grains have a good source of Vitamin B in their germ layer which is needed for the health of skin and hair growth.
Andhra Pradesh
Mango Rice- One of the delicious ways to incorporate mango in a meal is by Mango rice. Raw mangoes are either grated or cut in small pieces and mixed in the tadka of spices along with rice. The result is tangy, spicy and slightly sweet rice. Mangoes have an abundance of Vitamin C, which is necessary for carrying out various metabolic reactions in the body.
Payasam- Payasam or Kheer can be made from almost all cereals and pulses. For the payasam in Ugadi, rice and moong dal are mixed in a combination cooked with milk, jaggery and dry fruits. Rice and Moong dal complete each other in supplying essential proteins to our body and making it a wholesome food. 
North India
Chaitra Navratri- Celebrated over the course of 9 days in worship of Goddess Durga, different array of foods are prepared such as Sabudana Khichdi, Barnyard millet rice (Sama ke chawal), Waterchestnut Halwa (Singhara halwa), Amaranth Roti (Rajigra Roti) etc
Sabudana Khichdi- Is a humble recipe made from soaked Tapioca beads (Sabudana), potato and peanut all which are tossed in a spicy tadka. The dish is loaded with simple and complex carbohydrates along with proteins from peanuts which act as a great source of energy.
Singhara ka Halwa- Singhara flour is slightly toasted in ghee, to it sugar or jaggery solution is added and cooked, for garnishing cardamom and dry fruits are used. Singhara is a non-starch, zero fatty aquatic vegetable that is rich in Vitamins, minerals and fibre. Most importantly it has cool potency which calms the body during the hot weather season.
Definitely the new year brings with it a lot of mouthwatering and healthy dishes to our plate to savour and enjoy. These dishes also remind us that as a balance of flavours, variation in ingredients is important to make a great dish, similarly a balance of all emotions is equally important to have a great life along with a sound body.