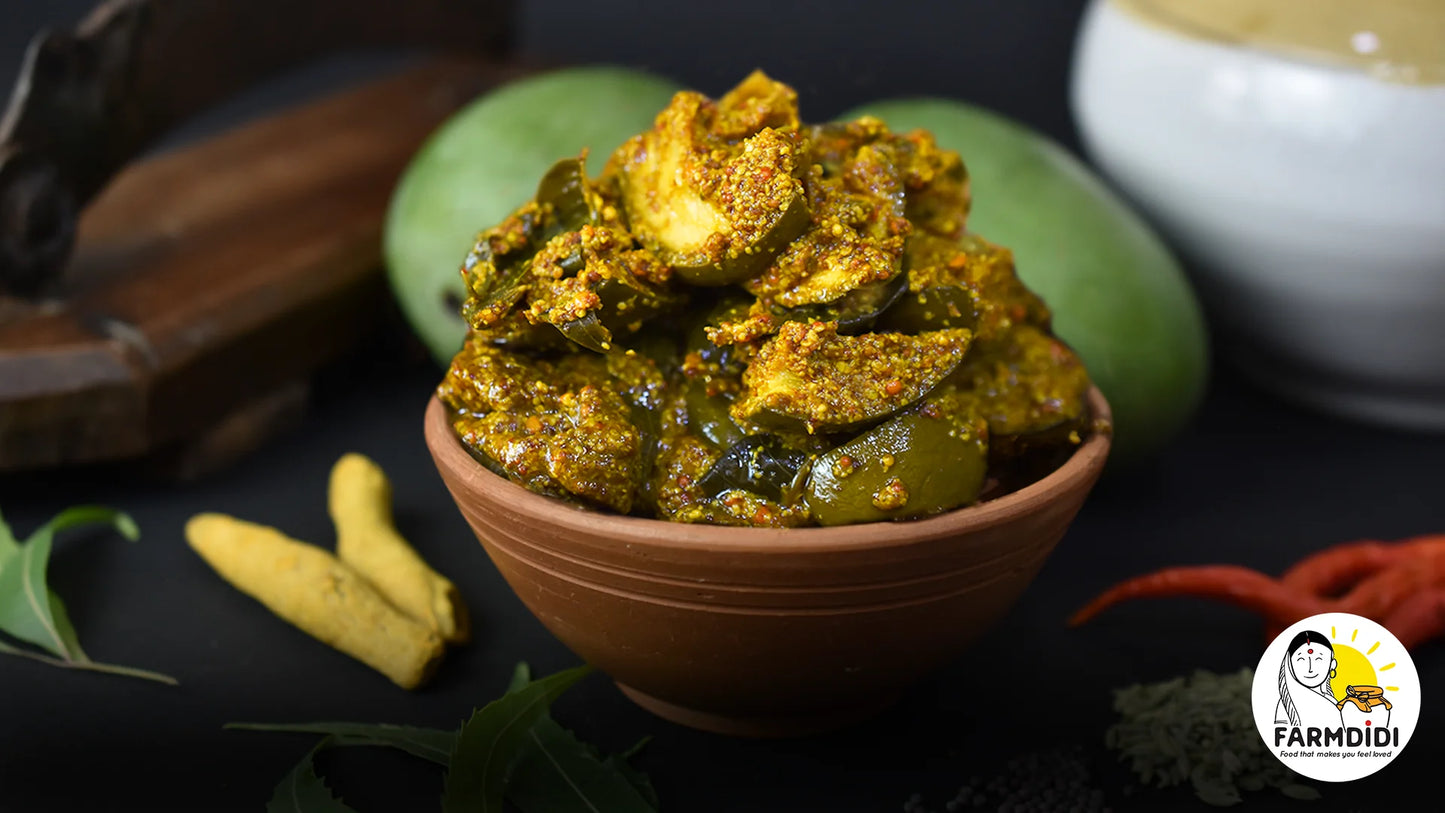 India's favourite condiment is pickles. Their sweet, savoury, and tangy flavours go well with all of Indian cuisine's main meals. Every part of our country has its own ingredients and recipes for pickles, yet every Indian household has one of many different variations. Mango, also regarded as "the king of fruits," has a stronghold in the pickle industry. Mango pickle has a delightful flavour that allows you to enjoy the flavour of seasonal mangoes all year.
To give a wonderful flavour, this pickle is produced with the interaction of carefully selected ingredients such as raw mangoes, spices, and oil. Though our country has a long tradition of preparing pickles at home, today's hectic lifestyle makes it impossible to follow this custom. Mango pickles that have a hint of handmade flavour are now widely available in the market, allowing you to enjoy these delicacies with ease.
'Aam ka Aachar' can be served with a variety of side dishes, including dal-rice, roti-sabzi, and others.
The jar of mango pickle can help protect bodily cells from free radical damage that results in ageing. The antioxidant content of mango pickle protects the body from oxidative damage. Because raw mangoes are pickled without cooking, antioxidants are kept in this pickle.
Mango is high in vitamins C and K, as well as fibre. Furthermore, the pickle's spice component has a good nutritional profile.
Pickles, when consumed in moderation, assist the body in acquiring the necessary nutrients to keep it healthy. Mango also contains important elements such as B vitamins, copper, folate, and Vitamin E, all of which are powerful immune enhancers.
4. Maintain skin and hair
Mango pickles are high in Vitamin C, making them an excellent condiment for improving skin and hair health. Vitamin C helps to produce more collagen, which aids in deep cleansing and maintains the skin bright and supple.
Mango pickle contain a high amount of fibre. It promotes regular bowel movements and enhances digestive system function. The enzymes in this pickle help to break down protein in the body and protect against gastrointestinal problems.
6. Balances Blood Pressure
Mangoes pickle is a source of magnesium and potassium, which help to keep blood pressure in balance. The beneficial chemicals in this pickle can help to prevent hypertension and support heart health.
Mangoes include lutein, zeaxanthin, and Vitamin A, which are believed to help with vision. The potent antioxidants in this pickle help to improve vision and may even help to avoid age-related eye disorders.
8. Assists with weight loss
Mango pickles, when consumed in moderation, may aid weight loss. This pickle has fat-burning phytochemicals. This pickle's high dietary fibre level maintains the digestive tract healthy. It also keeps your stomach fuller for extended periods of time, preventing overeating. As a result, a tasty pickle can help you lose weight while you enjoy this luscious pickle.
To summarise, the finest mango pickle is one that is created with the proper combination of fresh ingredients and provides a tasty experience while also improving your health. It is critical to consume this savoury condiment in moderation in order to gain the full advantages. 
You can purchase preservative free Mango pickle at Farm Didi who bring to you the age old recipes made in the traditional art form by the rural women of India.