Details of homemade Mango Chunda Chutney | Aam ka Chunda
You can call it Mango Chunda / Mango Chundo / Aam ka Murabba / Chunda chutney /Kairi Chunda
This is a must-try product! The majority of customers who taste it, buy again.

The origin of Mango Chunda's recipe goes back to western India (Gujarat and Maharastra). Mango Chunda is made with the freshest seasonal raw mangoes of the Rajapuri variety grown in these states. First, the mangoes are grated, and sun-dried. And then grated mangoes are added with spices and kept in Sun in Barnis. Now you can order Mango Chunda online and enjoy the authentic taste of Gujarat right in your own home. Our chunda price is reasonable in the homemade, and no preservative range.

So why wait? Order your jar of Mango Chunda today and experience the sweet and tangy goodness that will take your meals to a whole new level of deliciousness!
Ingredients used in the Mango Chunda Chutney | Aam ka Chunda

Grated Raw Mango (Aam)

Jaggery (Gud)

Cumin Powder (Jeera)

Chilli Powder (Lal mirch)

Salt (Namak)
Steps we take to make Mango chunda | Aam ka chunda chutney
"Desi raw mangoes are picked from farms near Pune Our Didis use the pairi, rajapuri and gavthi mangoes for making the mango chunda"
They are peeled and grated.
Aromatic Indian spices, jaggery are mixed according to traditional recipes from grandmas of Didis.
Health benefits of mango chunda
Rich in Vitamins and Minerals
Mango chunda contains mangoes, which are rich in vitamins A and C, as well as minerals like potassium and magnesium. These nutrients are essential for maintaining healthy skin, promoting immune function, and contributing to overall health.
Anti-Inflammatory Properties
Mangoes contain compounds with anti-inflammatory properties, which may help reduce inflammation in the body. Chronic inflammation is linked to numerous chronic health conditions, so reducing inflammation can be beneficial for overall health.
Improves Digestion
Mango chunda is a fermented food, which means it contains beneficial bacteria that promote a healthy gut microbiome. The probiotics in the chunda can improve digestion, reduce inflammation, and boost nutrient absorption.
Helps Regulate Blood Sugar
Mangoes have a low glycemic index, which means they release sugar into the bloodstream more slowly than high-glycemic foods. This can help regulate blood sugar levels and prevent spikes and crashes.
Boosts Immunity
Mangoes contain antioxidants and vitamins that may help boost immunity and protect against disease. These compounds may help strengthen the immune system and promote overall health.
Helps Prevent Anemia
Mangoes contain iron, a mineral that is essential for healthy blood cells. Regular consumption of mango chunda may help prevent anemia, a condition in which the body does not have enough red blood cells to carry oxygen to the body's tissues.
storage

and servings for mango chunda

There are a number of ways to enjoy the aam chunda! Whether you're having it with roti, dal-rice, or paratha it's the perfect addition to any meal. For the best taste experience, we recommend serving this mango chunda with hot dishes. And to ensure that it stays fresh for as long as possible, store it in a cool and dry place and do not forget to refrigerate it after opening. Always use a dry spoon while serving, so that there's no moisture contact.


Best before the date: 6 months from the date of packaging

Get the Best Mango Chunda Delivered Online from FarmDidi
This mango chunda (aam chutney) is available in 350g and 1Kg
The mango chunda is best when consumed within 4 months of opening the jar or 6 months from packaging whichever is earlier.
Very well prepared, very tasty
Never tasted something like this, after taste is soo yum, that I even eat it with spoon.
My Go to pickle in hostel
It makes every food interesting, goes well with my boring food in hostel.
Very Very Yummy, My kids loved it
My kids loved this mango ki chutney, I never knew such chunda existed, but my kids are eating this happily with rice and parathas
Mango Chunda Chutney | Aam ka Chunda
It was good. Can be made better as available in other brands in the market
Frequently asked questions
What is its shelf life?

It is best consumed within 6 months from the date of packaging.
How does it taste?

It has a sweet and tangy taste. With every bite of the chunda, you would find grated fiberous pieces of raw mango marinated in jaggery and spices with a hint of black salt.

Where should I store the chunda?

Store the Mango chunda bottle in a cool and dry place. Keep it refrigerated after opening.

What do I eat it with?

It can be eaten with laccha Parathas or filled into Chapati rolls, or in sandwiches and other daily meals.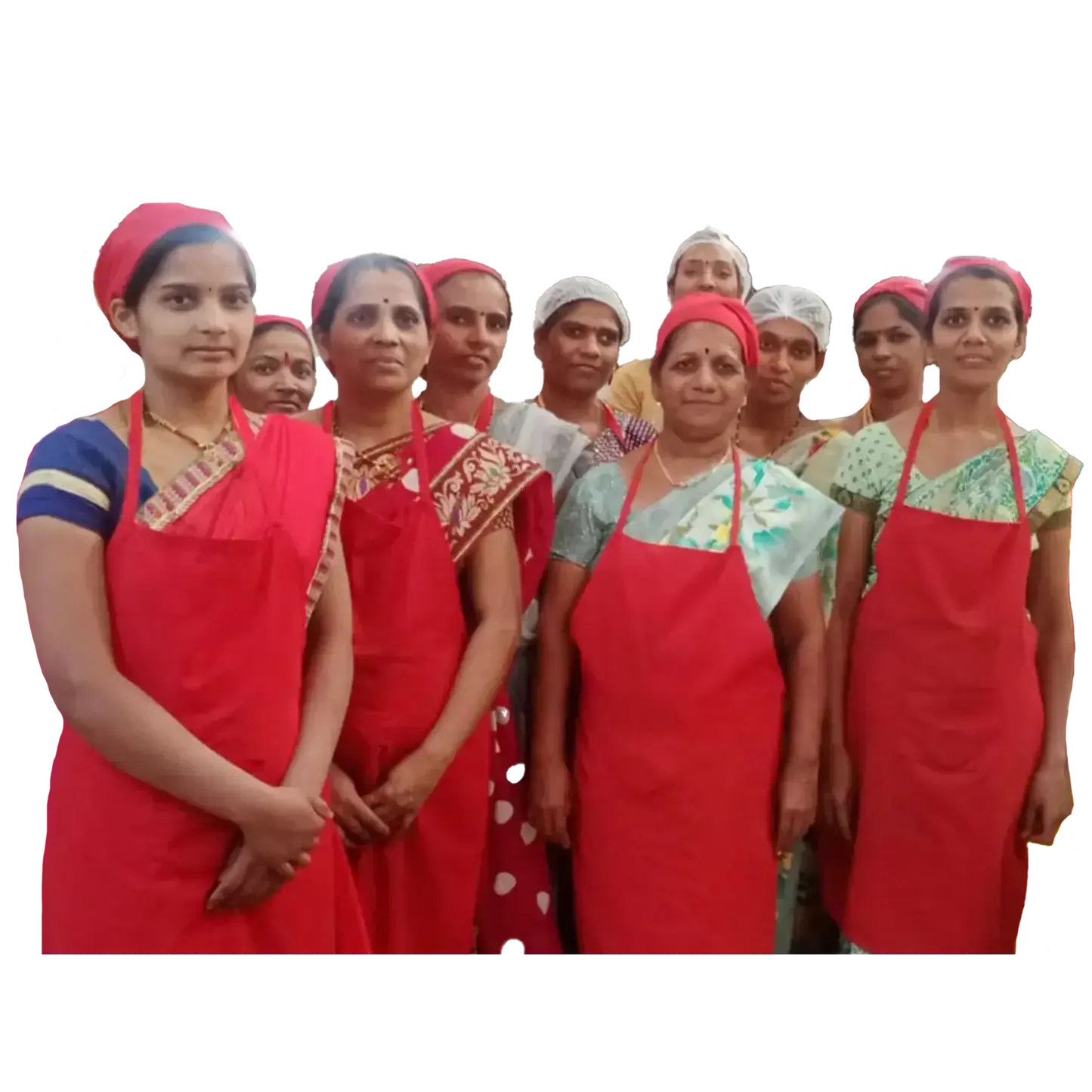 Know your didi:
Sankrupa Didis
Santkrupa Manhila Sahayata Samuh, from Ambegoan, Maharashtra.

Farm grown mangoes are freshly hand picked and mixed with other ingredients to make chutney which is then stored in Bharnis.

The chunda is made and packed under hygienic and ideal conditions to maintain quality requirements and are free from any artificial preservatives.