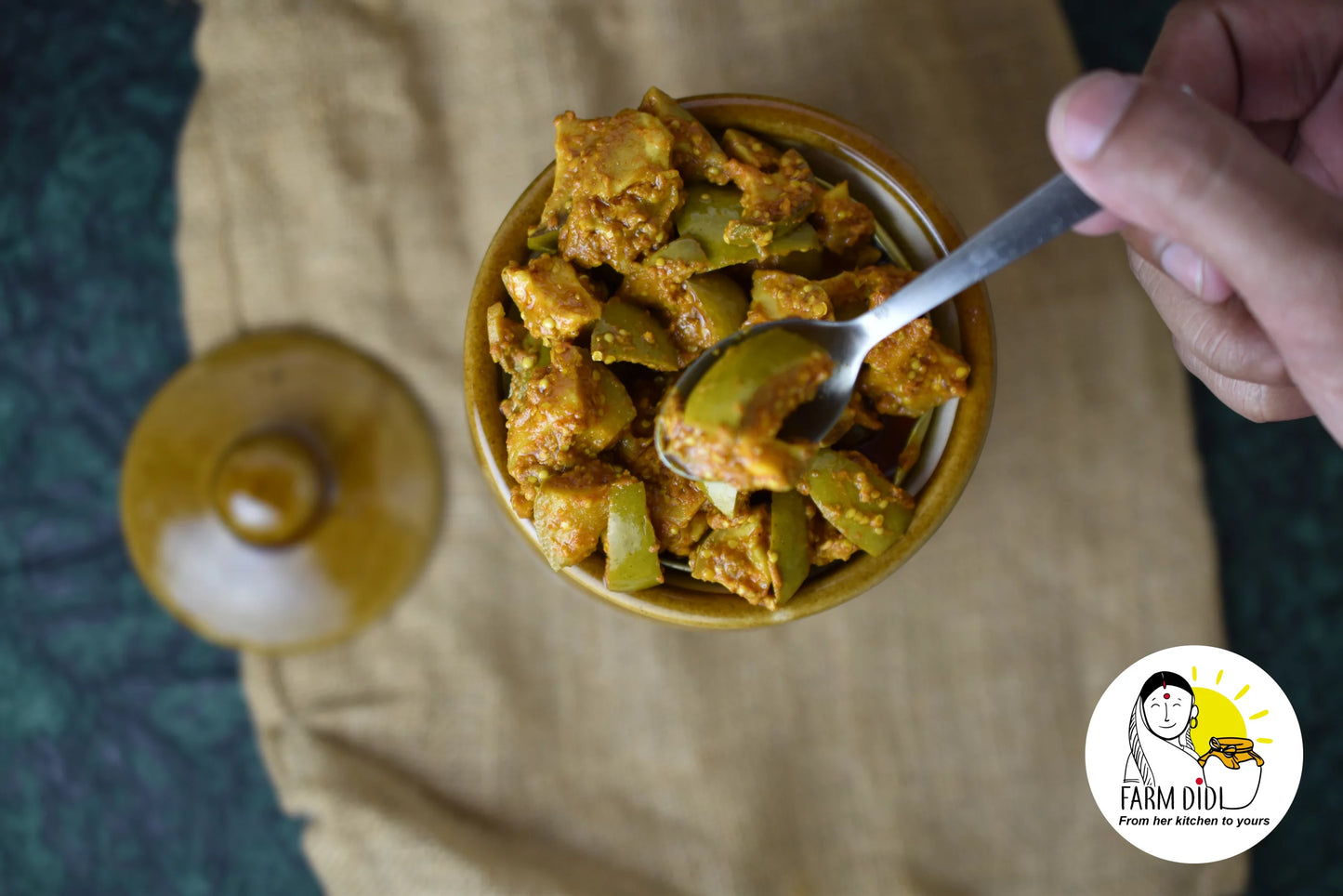 Coastal Karnataka is home of long preserved recipes both vegetarian and non-vegetarian alike. Pickles are no exceptions. Mangalorean Mango Pickle is a spicy, acidic pickle native to Mangalore. They have three variations "Middi Uppinakayi" made from small but whole mangoes, "Kette Uppiinakayi" made from the cut mangoes (just like rest of India) and "Mango Thokku" made from the grated raw mangoes.
Pickle is a must-have condiment in any Indian meal, adding a spicy kick to even the most basic dishes. Making pickles at home was once commonplace in most households. The practice of preparing pickles at home is progressively vanishing given that a variety of pickles are widely available in stores. However, store-bought pickles lack the allure of homemade pickles.
Pickling may appear to be a time-consuming process, but I was told by my friend's grandmother that it is actually rather simple. I visited her place this summer for her wedding and stayed back to explore the beaches. But it so happened that it was the right time to harvest the organic raw mangoes and pickle them for the year. So I sat down with her grandmother to take notes on the delicate art of pickle making. Unlike any traditional pickle recipe that uses Mustard oil, this recipe uses coconut oil which has high content of the lauric acid, which is a rare saturated fat. Coconut oil is considered to be good for the skin and hair health. So make this relatively easy and healthy, more importantly preservative free mango pickle which I am sure will leave you craving for more.
Grandmother's Tips for making long lasting pickle:
Mangoes should be wiped dry before chopping them. There should be no moisture in the mangoes.

While removing the pickle from the jar, use a clean, dry spoon.

This pickle can be stored for 6 months or more in an airtight jar.

Once opened it should be kept in the refrigerator, the pickle can be stored for a longer time.
500 grams raw mangoes 
3 tbsp salt 
6 dry red chillies – Kashmiri red chillies
3 dry red chillies- Byadgi red chillies
6 cloves of garlic
2 tsp mustard seeds 
½ tsp fenugreek seeds 
1 tsp of turmeric powder
1/4 cup coconut oil
1 tsp mustard seeds
1 tsp cumin seeds
1 tsp asafoetida
Wash the mangoes well.

Wipe them dry and cut into tiny pieces

In a mixing bowl, add the chopped mangoes and salt. Mix well.

Transfer this mixture to an airtight, dry, glass/porcelain  jar. 

Keep this aside for 4 to 5 days.

After 4 days, the mango pieces would have absorbed salt, released water and become moist and soft.  

Strain the mangoes into the strainer and collect the liquid in a bowl. 

Save the strained water to be used to grind the masala.

Grind into a fine paste-dry red chillies, mustard seeds, garlic, fenugreek seeds, turmeric powder,  water strained from the marinated mangoes. 

Add this masala paste to the mango pieces. Give a good mix.

Now, for the tempering, heat oil in a small pan.

Add mustard and cumin seeds.

When the mustard seeds start crackling, add asafoetida.

Allow this tempering to cool completely.

Pour the tempering over the pickle and mix well.

Store the pickle in a sterilised glass jar or porcelain pickle jar (bharni).

Take out small batches of pickle with a clean dry spoon and refrigerate it at all times.