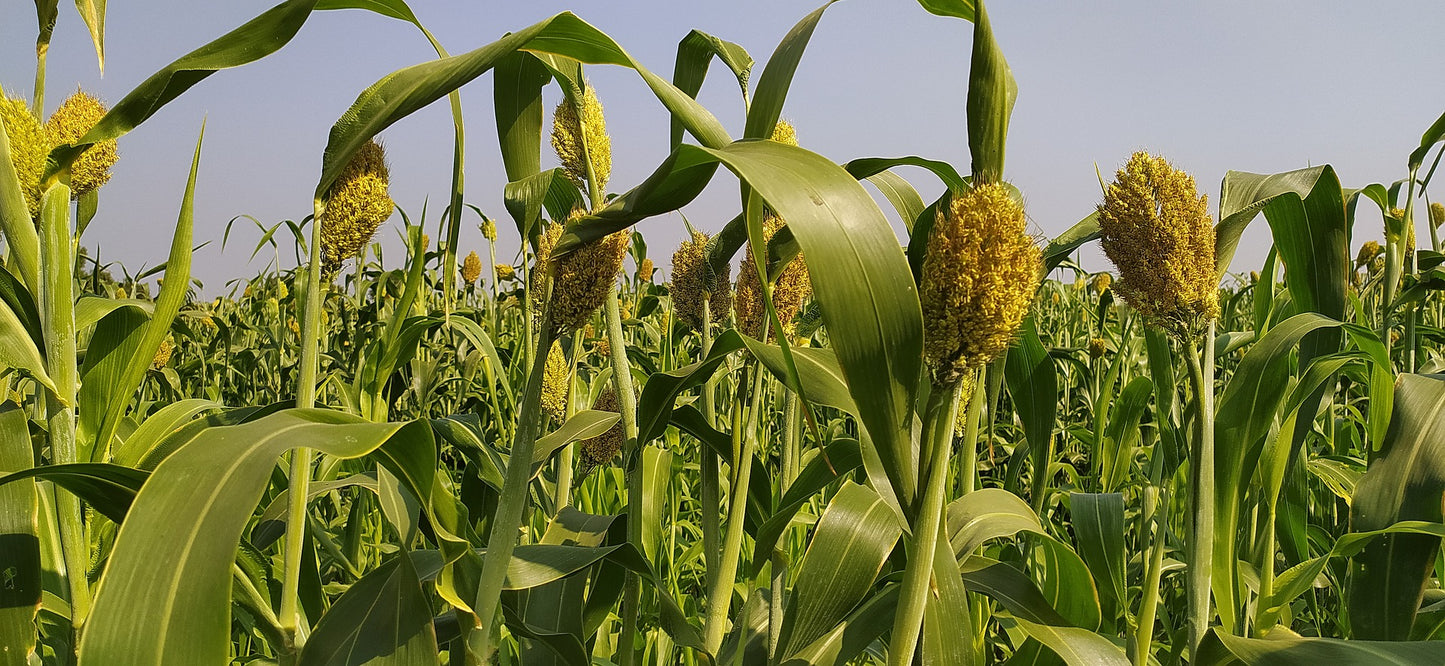 In North India and specifically in Haryana, Govardhan Pooja is celebrated in our family which falls on a day after Diwali. The little mountain of 'gobar' as a symbol of govardhan is prepared with 'Bajra Khichdi' in the form of prasad. My mother tells me that the ritual has greater significance than we think. In North India, Diwali comes in the month of 'Kartik Maas' which also marks the beginning of winter season. The 'bajra khichdi' is prepared with generous 'ghee' and the combination is considered to be a great protector of our body in winters due to the warm nature of 'bajra'.
This is just one story of a part of our country. Each length and breadth of our motherland has beautiful cultural rituals that help us in being cognizant of what we eat and guides us to understand how knowledge of our food is a form of worship.
Millets are ancient food. In India, they have been traditionally grown and consumed across the country. They form a big part of our traditional food systems. Millets are small seeded grasses that grow in dry zones as rain-fed crops under marginal conditions of soil fertility and moisture. The commonly grown millets are sorghum, pearl millet, finger millet, barnyard millet, foxtail millet, kodo millet, porso millet and little millet.
With advantages loaded in its favour such as low-maintenance, disease and pest resistance, nutritional benefits, market demand, fodder value and ecological benefits, millet is being considered as a smart crop. Most varieties of millets are well known for their hardiness and have the capacity to withstand prolonged periods of drought, high temperatures and still produce grains and fodder. They contain more protein and fiber than wheat and rice, are rich in vitamins, calcium, iron, potassium, magnesium, and zinc. They are gluten free and have a low glycemic index due to high fiber hence good for diabetics.
Research demonstrates how loss of coarse cereals in the Indian diet has substantially reduced iron intake. Increased consumption of coarse cereals could reduce anaemia prevalence in Indian women. Urban diets are poorer in zinc which can be corrected through consumption of millets. 
The United Nations General Assembly recently declared 2023 as the International Year of Millets in order to increase public awareness on the health benefits of millets and their resilience for cultivation under tough climatic conditions. The Ministry of Human Resource & Development, India has also recently requested states to include millets in the mid-day meals served to over 115 million school children every day. Millets are being promoted in many states like Orissa and Karnataka to fight malnutrition.
 India accounts for the highest production of millets in terms of volume across the globe. Once perceived as 'poor man's food' and animal fodder, millets have now earned traction for nutritional abundance as well as climate resilience. They solve the twin problems of malnutrition and climate change at the same time. While rice and wheat require many inputs in terms of fertiliser and water, millets grow well in dry agro climatic conditions. They are highly nutritious, non-glutinous, rich in fibre and easier to digest.
 Research has shown that millets are not only good for human health but help farmers in saving water and better management of soil fertility. Research finds "increasing the area under coarse cereals i.e. millets and sorghum improves nutritional supply, increases climate resilience and reduces Greenhouse Gas emissions and demand for irrigation water and energy while maintaining calorie production and cropped area".
 On comparing the amount of water needed to grow rice with that of millets, a research by Crops Research Institute for the Semi-Arid Tropics (ICRISAT) finds that one rice plant requires nearly 2.5 times the amount of water required by a single millet plant of most varieties.
Millets are usually grown by small and marginal farmers who ensure ecological resilience of local food systems. We need to reach out to urban consumers to help them reconnect with the earth and to urge them to change their lifestyles to more ecologically sustainable and livelihood generating choices- produce and consume locally. Agriculture cannot be transformed by farmers alone. We are all implicated in this through the choices that we make.