Details of Tamarind Sauce | Imli ki Chutney
Our Imli Chutney is THE ORIGNAL Imli Ki Chutney that used to be made by Grandmas. Grandmas would handpick fresh imli from trees, and add some jaggery along with some hand-pounded spices. Grandmas would keep this mixture in a jar and would call it Imli Chutney. Typically, it was made for enhancing curry flavors but mostly used for pampering her grandkids. Sometimes, you would find that grandma herself would relish its taste for snacking and would claim that she was eating it for improving her digestion.

For some, Imli Chutney Jar was the nostalgia; that jar used to be a candy for kids. Grandmas would keep it out of reach for kids as everyone loved and relished its tangy and sweet flavor.

And for some, the Imli Chutney packet used to be sold outside the schools and was one favorite toffee. We have learnt that some of our parents mentioned that the imli chutney packet price used to be 10 paisa in their childhood days.

We take pride in bringing it back, using the finest tamarind (imli), freshly sourced from farms. To ensure the highest quality and the most authentic flavor in every bite. We use black-colored natural Jaggery for making it. And now your grandmas might not be living near tamarind farms, but you can get this tamarind chutney online through Farmdidi.

The recipe for imli jaggery chutney is very simple, it contains only imli, jaggery, and chili powder. This one is one of the favorite chatni of our didis too. So what are you waiting for? Buy imli chutney from our FarmerDidis and even share it with your grandmas to surprise them

Please note that the chutney would be a bit drier as compared to how you would find other chutneys in the market. It is natural and doesn't contain any external liquids/chemicals.

Like our grandmas, you can use this chutney for enhancing the flavors of curries. You can add a bit of water before serving it with your favorite samosas
Recipe of Imli Chutney
Ingredients used in the Tamarind Sauce | Imli ki Chutney
Tamarind (Imli)

Jaggery (Gud)

Red chilli powder (Lal mirch)
Steps we take to make imli chutney| Tamarind sauce
Farm fresh tamarind is freshly picked and cleaned.
It is sautéed with caramelized jaggery and spices made by didis.
After it is cooled down, it is hygienically packed and made ready for delivery.
Health benefits of imli chutney
Improves blood circulation
It contains iron which plays a vital role in the normal production and development of red blood cells, keeping the blood circulation smooth.
Boosts immunity
It is an effective way to deal with allergic asthma and cough because of its antihistaminic properties. It's also a rich source of vitamin C and can boost the immune system to prevent cold and cough.
Improves your eye health
Tamarind is loaded with vitamin A, which is essential for maintaining your eye health and has compounds that protect your eye against dry eyes.
Maintains blood sugar levels
Tamarind seed extracts are anti-inflammatory in nature and they are even said to stabilize blood sugar levels and reverse the damage of the pancreatic tissue in those suffering from diabetes.
Helps in Tissue repair
Amino acids help in repairing tissues. Tamarind contains significant amounts of all the essential amino acids except tryptophan.
Helps prevent cell damage
Imli is high in antioxidants which can prevent free radicals from damaging cell DNA.
storage

and servings for imli chutney

There are a number of ways to enjoy the imli chutney! Whether you're having it with chaat items or using it to enhance the taste of curries. And to ensure that it stays fresh for as long as possible, store it in a cool and dry place and do not forget to refrigerate it after opening. Always use a dry spoon while serving, so that there's no moisture contact.


Best before the date: 6 months from the date of packaging

Get the Best Imli Chutney Delivered Online from FarmDidi
This tamarind sauce (imli chutney) is available in 350g and 1Kg
The imli chutney is best when consumed within 4 months of opening the jar or 6 months from packaging whichever is earlier.
Test is very bad and burnt smell
Thank you so much for your feedback. Your kind words inspire us to keep serving you better. We are glad you liked the product.
We would like to recommend you try some of our other products as well and let us know your feedback on them.
Looking forward to serving you again.
Warm regards
Team FarmDidi
Chutney and mango pickle
Taste as per required was not good
Hello Fahad,
We are sorry that the product did not meet your expectations. Our team will be in touch with you to help resolve the concern and arrange for a replacement.
Warm regards
Team FarmDidi
Frequently asked questions
What is its shelf life?

It is best consumed within 6 months from the date of packaging.
How does it taste?

Do you remember eating freshly picked imli from the trees. Our imli chutney brings back those memory with the extended flavours of mild sweet and spices.
Where should I store the chutney?

Store the Imli chutney in a cool and dry place, preferably in the fridge.
What do I eat it with?

You can eat it with daal rice, parathas, pani puri, bhel puri, vada pav, samosa and other chat items. You can also add it to your curries like sambhar, to enhance its taste.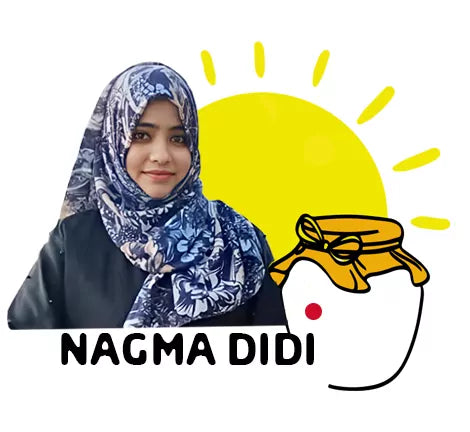 Know your didi:
Meet Nagma Didi who leads Subhani Swayam Sahayata Samuh, from Raigad, Maharashtra.

Farm grown Tamarind Pods (Imli) are freshly hand picked and mixed with other ingredients to make chutney which is then stored in Bharnis.

The pickles are made and packed under hygienic and ideal conditions to maintain quality requirements and are free from any artificial preservatives.