Steps we take to make Bitter Gourd Pickle | Karele ka Achar
Desi bitter gourds are freshly picked up from farms in Aurangabad.
They are washed and uniformly chopped into small pieces.
Then, these pieces are tossed with freshly extracted lemon juice and aromatic Indian spices according to traditional grandma's recipe
Prepared pickle is stored in Bharni and kept in sun for fermentation. The pickle is then packed under hygienic conditions and made ready for delivery.
It has sliced pieces of Karela, marinated in lemon juice, spices and hing. Yes, the pickle doesn't have any oil!
Spicy
Medium
Sweet
Low
Sour
Medium
Lemon took away its bitterness, it tastes spicy and sour.
Premium & Chemical-free Ingredients
Crafted in Small Batches to Ensure Quality
Sun-dried to Retain Flavours
Preserving Age Old India's Tradition
Empowering & Supporting Rural Women
Recipe of Bitter Gourd Pickle
The Best Homemade Karela Pickle (Karela Achar)
If you are looking for karela achar online or a way to add karela to your diet, then look no further, we have got you covered. The tangiest way to bring its essential nutrients into Daily meals, is our Karela ka achar. It is savoury (not bitter at all) has no preservatives and oil-free. We use traditional recipes and farm fresh bitter gourds to make our karela pickle just like mom-made
Authentic Karela ka achar Recipe And Flavour
Bitter Gourds(Karela) are pickled with spices and instead of oil, we use lemon juice to make this tasty pickle. According to our Farmer Didis, replacing regular pickles with this karela ka achar in your diet can ensure optimal health and can stimulate your taste buds while eating Dal Chawal and other regular dishes.
It is also called karlyacha loncha in Maharashtra, Kakarakaya Nilava Pachadi (Andhra Bitter Gourd Pickle) in Andhra and it is loved by fans of Marwari achar, Rajasthani pickle, Punjabi achar, too.
Preserved To Perfection
This is made by Gurudatt SHG, Aurangabad which makes these unique & tasty Karela pickle for us. They ensure that the chutneys are made and packed under hygienic and ideal conditions to meet quality requirements.
The Perfect Accompaniment
You may check the karela pickle price above and order it now, as it a superb, healthy and tasty deal
The pickle is loved by both kids and adults in family. We bet you would like to compare this bittergourd pickle recipe with other bittergourd pickles in the market and even with your own mother's recipe. It's definitely best Indian karela pickle that you wouldn't miss to try
We have both 1 KG Karela Pickle Jar and 350 Gm Karela Pickle Jar
FarmDidi offers a delectable selection of chutneys online, blending taste and tradition while promoting women empowerment. It is India's Top Homemade pickles brand in terms of quality of taste and social impact it is creating. One pickle jar at a time
Frequently asked questions
When stored in a refrigerator, it lasts for 6 months from the date of packaging.
The liquid you see in the pickle is Lemon juice which removes the bitterness of the vegetable and acts as a natural preserving agent. Our didis also add whole neem leaves in the pickle for extending the shelf life.
As this is an oil and preservative free pickle, it is best to keep refrigerated after opening.
When you take a bite of the little bitter gourd pieces in the pickle, you would find that it has a unique tangy and mildly spicy taste and surprisingly miniscule bitterness in it.
Know Your Didi:
Meet Vaishali Didi who leads Gurudatt Bachat Ghat, from Gadana, Khuldabad, Maharashtra.
Farm grown bitter gourds and lemons are freshly hand picked and mixed with spices to make pickles which is then stored in Bharnis.
The pickles are made and packed under hygienic and ideal conditions to maintain quality requirements and are free from artificial preservatives.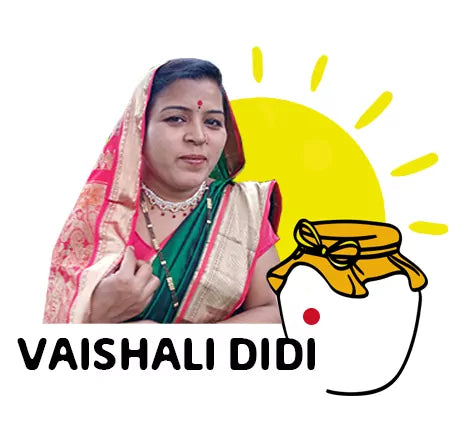 Health and Tasty
My dad have diabetes but he is foodie as well. So i order this farmdidi's karela pickle for him. He loved this have always have karela pickle while having food.
Ms Preeti
Their Karela Achaar was really a delightful surprise. I usually don't like karela but this achaar, the spices used was a perfection to say the least. If you want a change from your boring achaar, give this a try. It won't disappoint you!
The Best
Tried something new and didn't regret it absolutely tasty
First time I tried karela pickle and it is awesome.
I'm a picky eater, but Farmdidi has won me over with their incredible range of aachars. The tanginess and spiciness are just right, creating a symphony of flavors in my mouth. The quality and authenticity of these pickles are unmatched. Keep up the fantastic work!