Details of Kokum Chutney | Garcinia Indica Sauce
Introducing Farmer Didis' Kokum Chutney - the authentic taste of coastal Maharashtra now available online! Looking to add a tangy twist to your dishes? Look no further than our delightful Kokum Chutney.

Why settle for the ordinary when you can have the extraordinary? Our Kokum Chutney is crafted with utmost care and attention to detail. Made exclusively from farm-fresh kokum and jaggery, this oil-free delicacy is prepared using a unique and time-honored method by our talented Farmer Didis. We take pride in offering you a product that is not only rich in flavor but also holds the goodness of natural ingredients.

Kokum, a beloved ingredient in Maharashtrian coastal cuisine, is renowned for its sour flavor and cooling properties. Our Kokum Chutney brings you the authentic taste of this culinary gem, making it the perfect alternative to Imli Chutney. The refreshing tanginess of kokum will elevate your dishes to new heights, tantalizing your taste buds with every bite.

But that's not all – the benefits of kokum extend beyond taste. Known for its cooling and digestive properties, kokum aids in improving digestion, preventing constipation, and reducing acidity. With our Kokum Chutney, you can savor the incredible flavors while promoting a healthy digestive system.

Versatility is the name of the game with our Kokum ki Chutney. Use it as a secret ingredient in your sabzis and curries, and watch as the flavors come alive. Or simply serve it alongside your favorite dishes as a zesty and tangy accompaniment. Whether you're a culinary enthusiast or just love experimenting with flavors, our Kokum Chutney is a must-have addition to your pantry.

Forget the hassle of searching for kokum chutney in stores. With just a few clicks, you can buy Kokum Chutney online and have it delivered straight to your doorstep. So, why wait? Embrace the tantalizing taste of Kokum Chutney and elevate your culinary creations today. Click now to experience the authentic flavors of Maharashtra with Farmer Didis' Kokum Chutney!


Recipe of Kokum Chutney
Ingredients used in the Kokum Chutney | Garcinia Indica Sauce 
Kokum (Garcinia Indica)

Vinegar (Sirka)

Jaggery (Gud)

Ginger (Adrak)

Garlic (Lahsun)

Cloves (Laung)

Black Pepper (Kali mirch)

Red Chilli Powder (Lal mirch)

Salt (Namak)

Coriander (Dhaniya)

Fennel (Saunf)

storage

and servings for kokum chutney

There are a number of ways to enjoy the kokum chutney! Whether you're having it with roti or dal rice or using it to enhance the taste of curries. And to ensure that it stays fresh for as long as possible, store it in a cool and dry place and do not forget to refrigerate it after opening. Always use a dry spoon while serving, so that there's no moisture contact.


Best before the date: 6 months from the date of packaging

Get the Best Kokum Chutney Delivered Online from FarmDidi
This kokum sauce (kokum chutney) is available in 350g and 1Kg
The kokum chutney is best when consumed within 4 months of opening the jar or 6 months from packaging whichever is earlier.
Hello Anand,
Thank you so much for your rating. We're glad you loved our product.
Your feedback motivates us to continue to provide the best quality pickles to our customers. Do try out our other pickles and let us know your feedback.
We look forward to serving you again!
Regards
Team FarmDidi
Finger licking good - Kokum Chutney
Kokum helps in digestion; it's also an antacid. This chutney is pure gold. Having been in the nutraceutical industry for years, I can taste high-grade ingredients. I enjoy it with Parathas, Dosas, and Curd rice. Try it, and you will love it. I am going to try Farm Didi's other products as well.
Unique and delicious kokum chutney must try
kokum chutney is a hidden gem. Must Try!
Frequently asked questions
What is its shelf life?

It is best consumed within 6 months from the date of packaging.
How does it taste?

It is an authentic Konkani tangy delight that has a sweet & spicy aftertaste with a real, farm fresh kokum and has a pulpy texture
Where should I store the chutney?

Store the Kokum Chutney in a cool and dry place. Keep it refrigerated after opening.
What do I eat it with?

You can use Kokum chutney as an ingredient in sabzis and curries to enhance their flavor or directly serve it with various dishes such as Aloo Puri.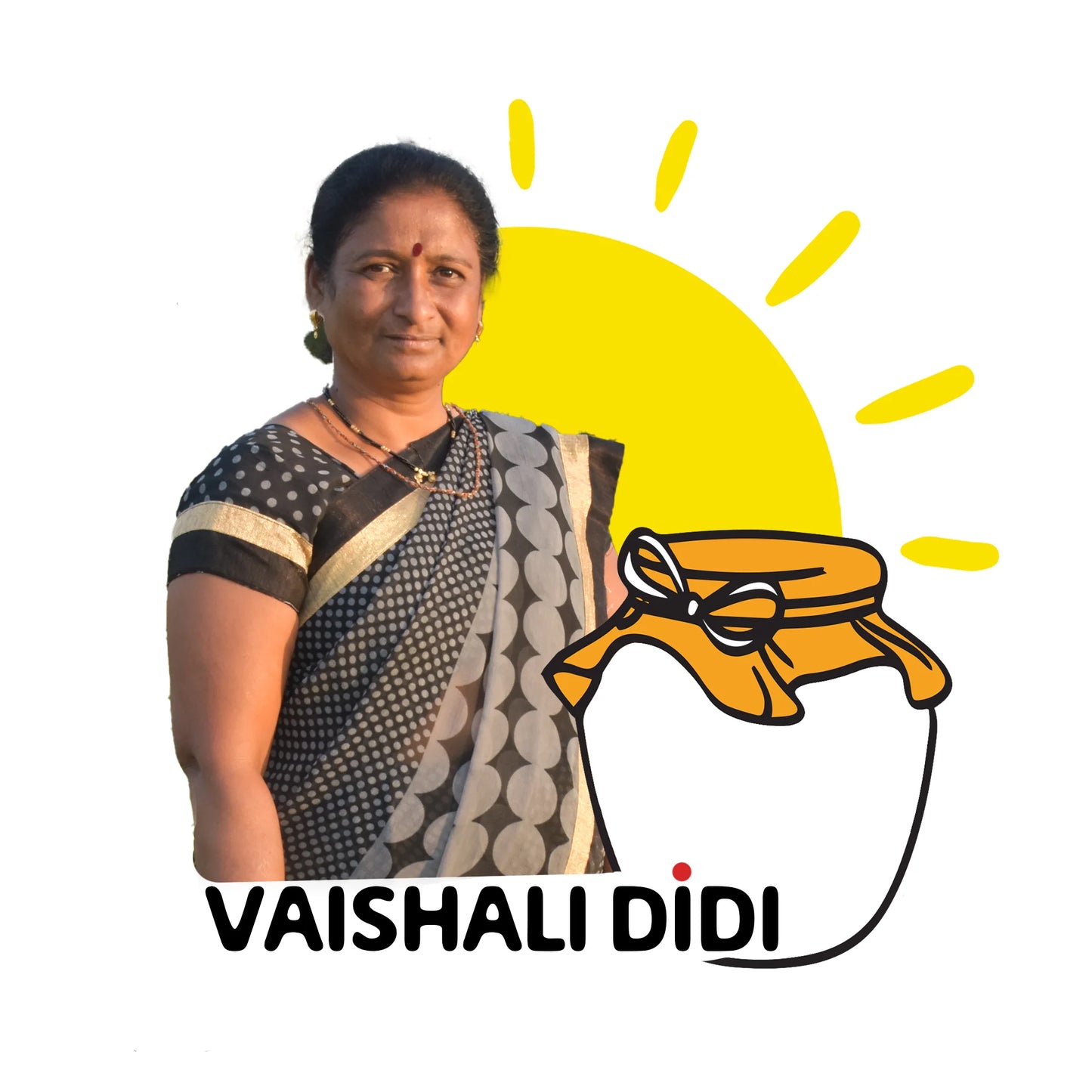 Know your didi:
The Kokum chutney has been made by Ahmadi SHG, Raigad.
She ensures that the chutney is made and packed under hygienic and ideal conditions to meet quality requirements.