Details of homemade garlic chutney (Lehsun ki chutney)
Looking to buy garlic chutney online? Look no further than our hot and smokey garlic chutney, which is made using traditional recipes and a farm-fresh, indigenous variety of garlic from Maharashtra.

If today's curry is not your favorite, add this Garlic chutney to your meals! Made with the freshest farm garlic, coriander, and spices, our pickle is a burst of authentic flavor that will leave your taste buds tingling with its zing.

But that's not all - our Garlic chutney is also packed with essential nutrients from garlic and mustard that can help boost immunity and keep you feeling healthy and energized. Trust our Farmer Didis who have perfected the art of balancing the spice level, ensuring that it's just right to add that extra oomph to your meals.

Go ahead, add our Spicy and Tangy lasun ki chutney to your pantry today and elevate your meals to a whole new level of deliciousness! In case you are searching for Rajasthani Garlic chutney online, search no more - do try this product!

So, check out our reasonable garlic pickle price in the homemade, preservative-free, and low-oil range, and book your barni now for quick and easy delivery!

Ingredients :
Garlic
Vinegar,
Kokum,
Red Chilli Powder
Oil
Salt
Jaggery
Cumin
Coriander
Steps we take to make garlic chutney | Lahsun ki chutney
Farm fresh garlic is washed, and cloves are crushed slightly. Our Didis use Shweta, Phule baswant and gavthi garlic in making the lahsun ki chutney
Kokum is soaked in vinegar for a while and then sieved, after which the spices are added and mixed.
Oil is heated, and the crushed garlic is added and cooked until they become soft. The garlic is then tempered with the masala paste.
It is then allowed to cool thoroughly. The garlic chutney is then packed under hygienic conditions and made ready for delivery.
Health benefits of garlic chutney
Lowers blood pressure
Garlic is high in minerals such as manganese and selenium, vitamins C and B6, and antioxidants like allicin which help regulate blood pressure.
Detoxifies the body
Garlic's high sulphur content provides it antibacterial properties making it a strong detoxifier.
Lowers cholesterol
Garlic has been shown to decrease cholesterol and thin the blood, which aids in the prevention of stroke, hypertension, and heart disease.
Controls diabetes
Garlic is also said to aid in the regulation of blood glucose levels. The consumption of garlic on a regular and long-term basis lowers blood homocysteine levels
Helps treat cold
Garlic contains a chemical component Allicin and antibacterial, antiviral, and antifungal characteristics that help in the treatment of the common cold.
storage

and servings for garlic chutney

You can have lehsun ki chutney with rice, roti, dal, paratha or any meal. For the best taste experience, we recommend serving this lahsun chutney with hot dishes. And to ensure that it stays fresh for as long as possible, store it in a cool and dry place or refrigerate it after opening. Always use a dry spoon while serving, so that there's no moisture contact.


Best before the date: 9 months from the date of packaging

Get the Best garlic chutney Delivered Online from FarmDidi
This garlic (lehsun) chutney is available in 350g and 1Kg
The chutney is best when consumed within 6 months of opening the jar or 9 months from packaging whichever is earlier.
Sorry to hear this feedback, We are reaching you directly to suggest other options or suggest you other products.
Quantity bohot kam h according to price taste bhi jayada khas nahi hai waste of money
Frequently asked questions
What is its shelf life?

It is best consumed within 9 months from the date of packaging.

How does it taste?

It is a mixture of crushed garlic cloves and kokum in a spice paste and has a mildly spicy and sour taste.
Where should I store the chutney?

Store the Garlic Chutney in a cool and dry place. Keep it refrigerated after opening.
What do I eat it with?

You can add Garlic Chutney to all kinds of snacks and meals, from chaats such as bhel puri to breakfast such as dosas and idlis.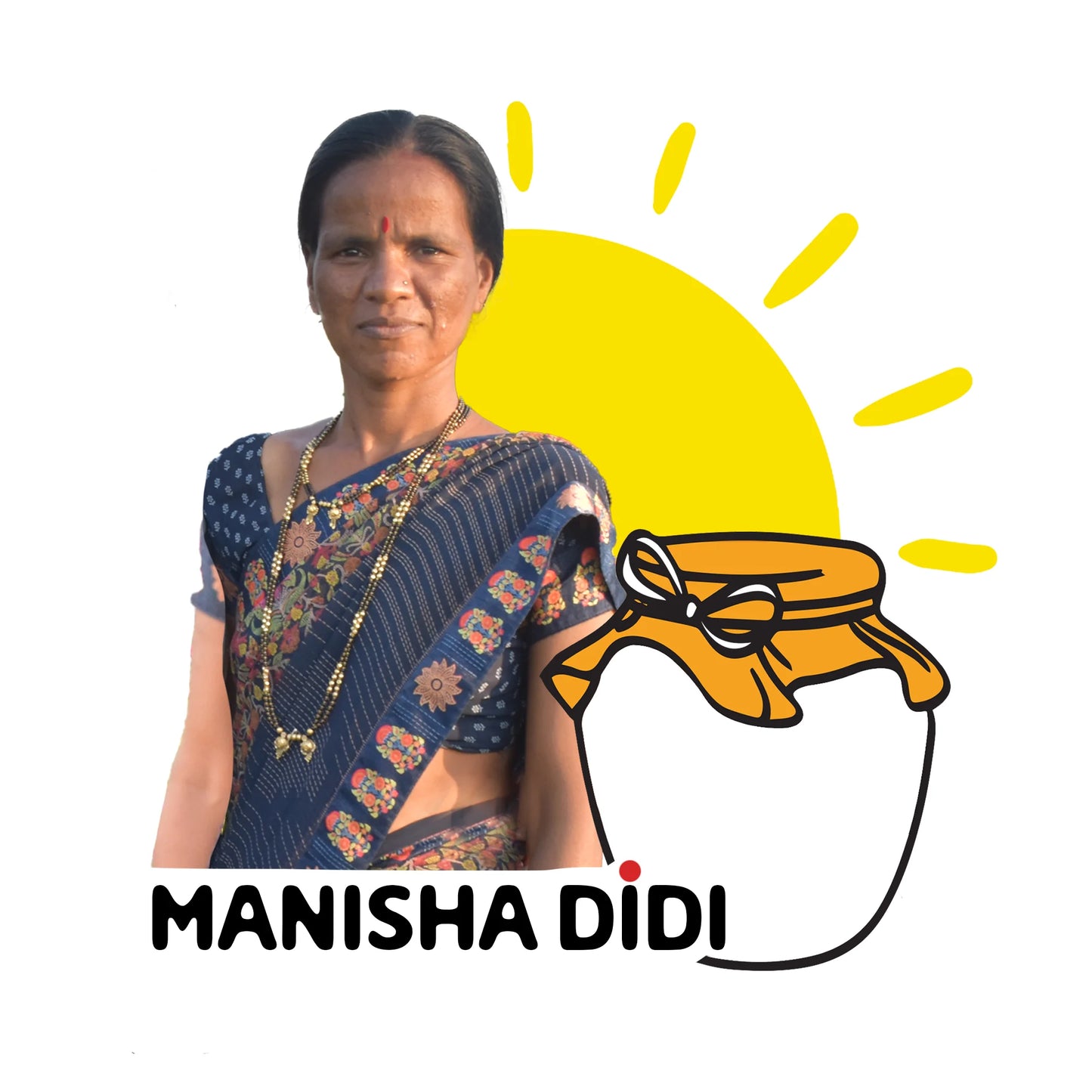 Know your didi:
This is chutney is made by Manisha Didi from Shivai SHG, Raigad.
They ensures that the chutney is made and packed under hygienic and ideal conditions to meet quality requirements.